An Immigrant's White Christmas and a Kid From Spokane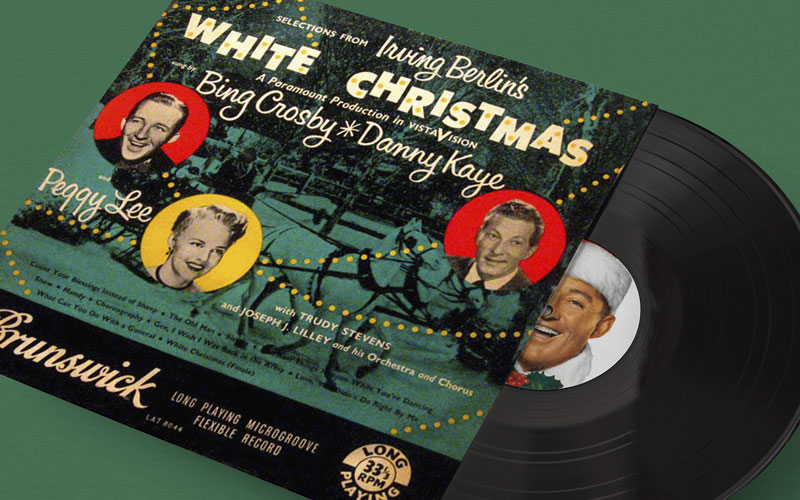 Wherever you go over the next few weeks you won't be able to escape White Christmas. The Christmas song. The most recorded Christmas song in recording history. Every few years an artist – as diverse as Frank Sinatra, Bette Midler, Michael Bolton, the cast of Glee, and dozens more – cut their own version and White Christmas shoots up the charts yet again.
White Christmas has been honored as one of the most important American musical works of the 20th Century. The original 1942 version was one of the first 50 historically significant recordings chosen by the Library of Congress to be added to the National Recording Registry.
Spokane and Gonzaga's own Bing Crosby, of course, sang the original version. To date, Crosby's version has sold 50 million copies, the most in history. He debuted the song on Christmas Day, 1941, two weeks after Pearl Harbor. He sang it in the 1942 film, Holiday Inn and won an Academy Award. He sang it in front of troops all over the European and Pacific Theaters of War.
Seventy-five years ago this week, Crosby sang it in a USO show in Northern France in front of 100,000 G.I.s "in tears" while he tried to sing and not break down himself. The Battle of the Bulge started a few days later, just miles away.
"In tears" . . . because from its inception White Christmas said something intrinsic about America and Christmas and home and a dozen other uniquely American things.
And, maybe, it came along at exactly the right time.
Perhaps fittingly, it was written by an immigrant. Irving Berlin. Or, as Time Magazine described him in 1934 (he was on the cover) "this itinerant son of a Russian cantor is an American institution."
Irving Berlin was born in Siberia in 1888. His family fled the pogroms of Tsarist Russia and sailed to Ellis Island in 1893 when he was five. He and his six siblings were held in a pen for days before being allowed to cross the river to Manhattan.
He grew up on the streets of lower Manhattan. He started singing in bars and taverns in his early teens and quickly graduated to writing songs. He served in the U.S. Army in World War I – the Army recognized his talent and put him in charge of producing a musical revue for the troops.
The rest is, of course, history.
The story is that he wrote White Christmas in 1940, in California. He pulled an all-nighter – as he often did – jotting down ideas and songs and when his secretary came in the following morning he told her  "I want you to take down a song I wrote over the weekend. Not only is it the best song I ever wrote, it's the best song anybody ever wrote."
Irving Berlin, who came to the United States at age 5, then teamed up with Bing Crosby, who's ancestors on his father's side went back to the Mayflower, and together they produced the perfect American song.