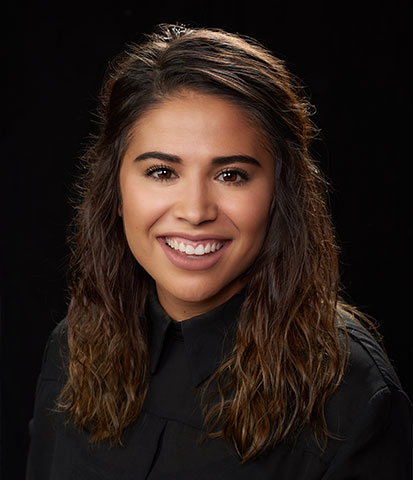 Destiny Soto is an attorney (awaiting bar results – Rule 9) at Quiroga Law Office, PLLC, where she provides the necessary support to present the cases of our clients, including the investigation of immigration matters and writing abstracts and motions.
As a first-generation American, Destiny's interest in immigration law began at an early age. She observed the many struggles suffered by her father who immigrated from Mexico. It was from these observations that Destiny realized that she wanted to pursue a career fighting for the helpless and ensuring that the voices of all people were heard. Combining this interest with his education, Destiny received her Bachelor of Political Science and Criminal Justice from Northwest Nazarene University, a small private liberal arts university just outside Boise, Idaho. During her undergraduate career, Destiny worked in law firms in other legal areas, but always had the feeling that something was missing.
As soon as she started at Gonzaga Law, Destiny joined many extracurricular activities to refine her desire to help those in need. She was a member of the team of simulated courts of civil law of Gonzaga Law. In addition, she was the president of Mission Possible, an alternative spring break club that travels every year to underdeveloped communities, including Quito, Ecuador to write and translate manuals for a local orphanage in English and New Orleans to complete multiple beautification projects. In addition, Destiny devoted time to the Moderate Media Program of the Gonzaga Act, a program that helps community members find reduced legal help.
Destiny's commitment to civil rights and the representation of the underserved population is what made her an excellent candidate for Quiroga Law Office. Destiny has quickly realized that immigration law is her passion and is incredibly excited to start her career in this field.
Education
Gonzaga University School of Law  Spokane, WA
Juris Doctor: 2019
Admissions Ambassador
Team of simulated civil rights courts
Northwest Nazarene University  Nampa, ID
Bachelor of Arts, Political Science, Minors, Criminal Justice: May 2016
Dean's List, Fall 2015 – Spring 2016
NCAA Division II Athletics Team
Experience
Quiroga Law Office, PLLC  Spokane, WA
Attorney (awaiting bar results – Rule 9) | May 2019
Quiroga Law Office, PLLC  Spokane, WA
Legal Intern | March 2018 – May 2019
Moderate Means Program  Spokane, WA
January 2017
Spokane City Police Defender's Office  Spokane, WA
Legal Intern | June 2017 – September 2017
Wes Wilhite Law Office  Kuna, ID
Legal Assistant | June 2015 – July 2016
Contact Us
SCHEDULE A CONSULTATION
(509) 255-3522