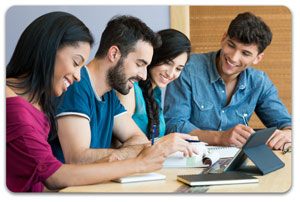 Student visas are broken down into two main categories. They are F visas and M visas. The F visa is for admission into academic programs. The M visas are issued for admission into vocational programs.
M visas are somewhat more stringent today as the air plane hijackers on September 11, 2001 had M visas to enroll in a flight school in the United States. As a result, the department of homeland security is very vigilant in tracking student visas and cracking down on those who are out of status.
Student visas require a full time course of study in an educational institution approved by the office of the department of homeland security.
The student must have sufficient funds available during the entire course of study. The student must also demonstrate a proficiency in the English language.
Student visas do provide for one year of practical training after conclusion of the post-secondary degree.  This means that the individual can stay in the United States and work with authorization for one year.
To obtain a student visa, the student must first obtain a I-20 form. These forms are issue by the school and their international student offices.
Student Visas and the I-20 Form
Students visas are monitored by offices in most of the schools and they typically handle the issuance of the paper work which includes the I-20 document. The I-20 is required before students can get a visa.
The I-20 sets out the course of study, the expenses of the course of study and how much funds are needed by the student.
The government is imposing on the school the function to ensure that anyone who has been issued a visa from their school is still in status. If they are out of status they have to report them to immigration authorities. This creates the situation where if a student is academically dismissed (GPA is below school requirements), the school must notify immigration authorities the student can no longer continue and he or she must return to the country of origin.
What typically happens is that the student applies to the school and upon acceptance, the school issues the I-20. The I-20 verifies that the student has been accepted to the program, and that the student has the funds available for the program. The student then has the duty to take the I-20 to the consulate during his or her interview.
Upon entry to the United States, the student is given a DS status (short for "during school") on his or her I-94 which entitles him to remain in the United States during the time that the student maintains full course of study as dictated by the educational institution.
The student does not have to go to school 12 months a year.
Change of Status by student visa holders
Students can change their status to an H-1B  status which is an employment visa if somebody has agreed to hire them.
Contact Us
SCHEDULE A CONSULTATION
(509) 255-3522