Thanksgiving Day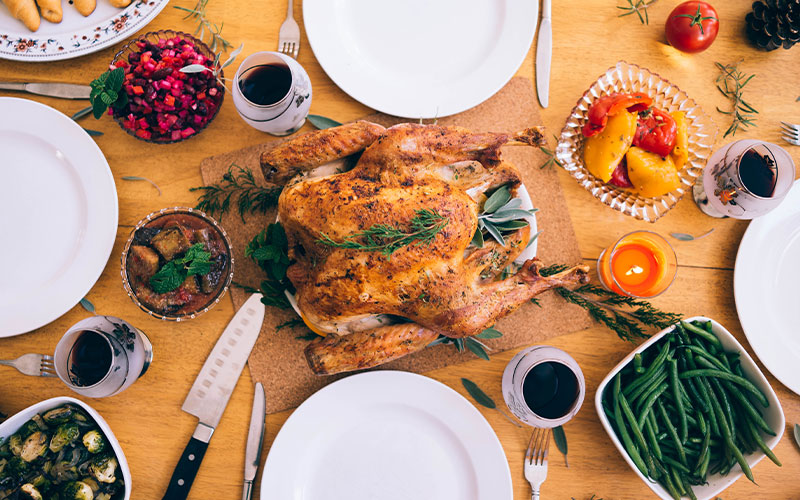 As immigrants, it is important to acknowledge the culture and most significant celebrations of the country we live in. Therefore, we invite you to get to know the tradition of Thanksgiving, one of the most important celebration for American families.
Did you know that, also because of immigrants, they began to celebrate Thanksgiving?
Yes, that's right: It was intended to commemorate the first harvest that English settlers had when they arrived in North America. The first American president, George Washington, decreed in 1789 the first proclamation of Thanksgiving to thank the end of the War of Independence between the 13 colonies and the United Kingdom. Then, in 1863, President Abraham Lincoln continued this way of giving thanks. Later, in 1941, President Franklin D. Roosevelt proclaimed Thanksgiving as a holiday, and it was permanently established on the fourth Thursday of November. For this year, it will be held next Thursday, November 28 Thanksgiving Day.
This great American tradition is based on the family union and values. What an important day to celebrate with your loved ones!
On this day, all people leave their jobs and their chores to go home and gather with their families. Many must travel to do so, so it becomes difficult in traffic. It is not only important, delicious, traditional and historical but a moment to express gratitude to God.
This day has become one of the most special and preferred dates for most American families. The celebration revolves around a large banquet home prepared, in order to give thanks to God for all the blessings received over the last year (health, well-being, love, friendship, safety, happiness, work, etc…), including the joy of meeting to celebrate this date. Besides, the beginning of Christmas is celebrated.
The iconic Thanksgiving dish is stuffed turkey with a base of bread, corn and sage. Its preparation is roasted, baked, or fried, and is accompanied by a cranberry sauce, salad, mashed potatoes, green bean stew and several desserts, among which you cannot miss the apple pie accompanied by a vanilla ice cream ball, pumpkin pie and pecan nuts. At this banquet, one listen to Christmas music and Thanksgiving prayers. The houses are decorated creating a festive atmosphere, there are ornaments at their doors, on their tables using beautiful centerpieces, tablecloths and candles.
Why turkey?
At the beginnings of this tradition, in November 1621, and to celebrate the successful first harvest of corn, the governor of Plymouth (Massachusetts) organized a party and invited some natives, so that the men went hunting, to get the meat for dinner. For sure, it is not known whether turkey was eaten on this celebration. It is said that duck, fish and deer were really consumed. They called all the wild birds "turkey"; therefore, it is not known if they have used it since that Thanksgiving celebration. What is known is that turkey is a native species of America and that the tradition and the main base of this dinner.
It should be noted that other people or entire families celebrate in different ways and it is volunteering to give back on Thanksgiving Day, as another giving thanks to God, with solidarity activities, donating food, toys and activities to homeless and other kinds of shelters.
On this Thanksgiving Day, one can also see many events that take place, such as the big parades through the streets of Manhattan, in New York, with parades of gigantic balloons and floats, organized by the chain of stores by Macy's department, in addition to different presentations of artists and the deployment of many film and television characters.
One of the most expected activity for Americans is the one performed by the president of the United States when he appears next to a turkey in the White House, with the ritual of forgiveness or pardon to one of the turkeys that will be eaten on Thanksgiving in the presidential house. This tradition is broadcasted live on television for the whole country and is held the day before Thanksgiving. This pardoned turkey is sent to Mount Vernon, a small town in Washington County. It should be noted that turkeys consumed in the White House are given away by turkey farms in the United States.
The customary NFL football game is also expected on this traditional Thanksgiving celebration. Thus, it is combined with professional football from the United States. Many fans enjoy the football league matches in family and with the closest friends.
The day after Thanksgiving, the traditional beep for the Black Friday offer festival is expected with great enthusiasm. On this day, in which the Christmas shopping day opens, the store provides many discounts and people make gigantic lines in establishments, and there are also offers and great activity in online stores.
There are many feelings, symbols, events and customs for these two days: thanks, prayer, family, holiday, Christmas opening, banquet with delicious dishes, pardon to the turkey, parades, football, discounts and much to do and enjoy.
In Canada they also celebrate Thanksgiving, but because of their location, that is, because they are further north, they do it on the second Monday in October, as the harvest ends earlier. It is believed that this tradition is older in Canada since it comes since 1578.