Immigration Under the Headlines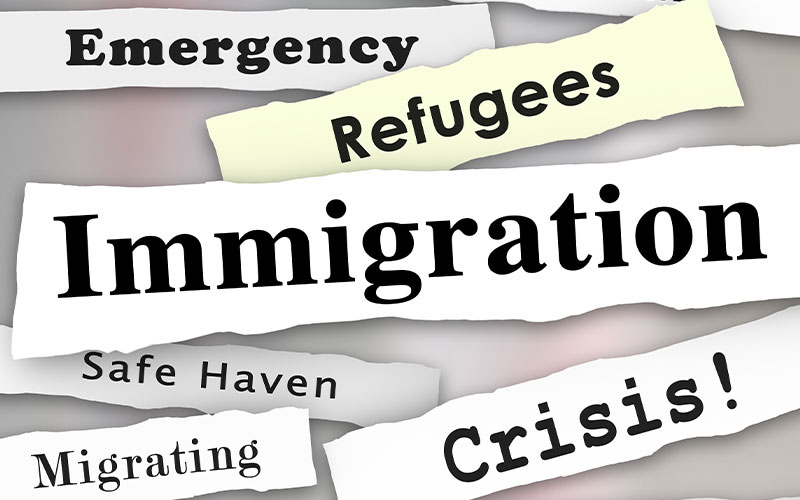 Introducing a new regular feature – Immigration Under the Headlines. With the 'Border Wall' and all the other issues around our southern border in the news almost 24/7 it's easy to lose track of what the Trump administrations's policies – the ones not locked up in litigation or Congressional challenges – are doing to the vast majority of immigrants in the United States and to immigrants on their way here.
So, every month or so, we'll run down these and other immigration stories that are more page 26 than the front page.
Our first edition:
Rami Malek won the Academy Award as Best Actor for Bohemian Rhapsody and his portrayal of Queen's Freddie Mercury. Rami is the son of Egyptian immigrants to Los Angeles in the late '70s. He was raised Egyptian, he said recently:
There's no first generation, or second generation removed. I am Egyptian, I grew up listening to Egyptian music. I loved Umm Kulthum. I loved Omar Sharif. These are my people. I feel so gorgeously tied to the culture and the human beings who exist there. I acknowledge that I have a different experience, but I am so enamoured and intertwined with Egyptian culture, it is the fabric of who I am.
And yet, he was a standout debater and actor in high school and college and assimilated in his own way, working jobs as a pizza delivery boy and making falafel sandwiches in various restaurants around L.A. He was applying for a real estate license when he got his first break.
Really, just another child of immigrants growing up in the Nineties, finding success after thirty. His brother is an English teacher, his sister is an ER doctor. Two more successes.
In his acceptance speech at the Oscars, Rami talked about struggling to find his identity growing up, being the son of immigrants and a first generation American, and winning the Oscar for portraying another immigrant who struggled to 'fit in' before becoming a worldwide icon.
An Update on 21 Savage: the rapper was released from detention on a $100,000 bond. His matter is no longer classified as a deportation, so he is looking at a court hearing 1-3 years from now. In the meantime his visa application will still be pending. 
21 Savage has excellent lawyers, and the fact that this is somewhat a 'good feeling' story today is almost entirely due to them and the fact that they, along with 21 Savage, began the visa process long before the arrest.
An interesting side to all this, one we will be following, is the political aspect of his arrest. His attorneys say they were tipped off he was going to be arrested after his appearance on Jimmy Fallon a few days before the Super Bowl. They flew to Atlanta to bring him back to California where the 'courts are more open to his set of circumstances' but 21 Savage wouldn't leave before carrying out his 'contractual' duties to perform at Super Bowl functions.
It was reported last week that a DACA recipient from South Carolina got the great news he was accepted at both his top choice and best backup for law school. Two weeks later he – his parents are Honduran refugees – recieved notices from the schools – both in Georgia – that they were rescinding their offers because of his DACA status.
It should be noted that law schools are ranked – and rankings are very important – primarily on the percentage of students enrolled who graduate and then go on to pass the bar exam. The two schools were plainly afraid that with DACA status currently so . . . unpredictable . . . they were taking a risk a DACA student could make it through three years and the bar without something happening.
So, they rescinded their acceptances and left a qualified student high and dry.
This story, though, has a good ending. A law school in Florida – much higher ranked than the two in Georgia – offered a spot and our DACA friend will be starting classes in the Fall. He would like to be an immigration attorney.
Another story, of course, that bears watching, beneath the headlines, in this time of great uncertainty for all immigrants.