Headlines and Attitudes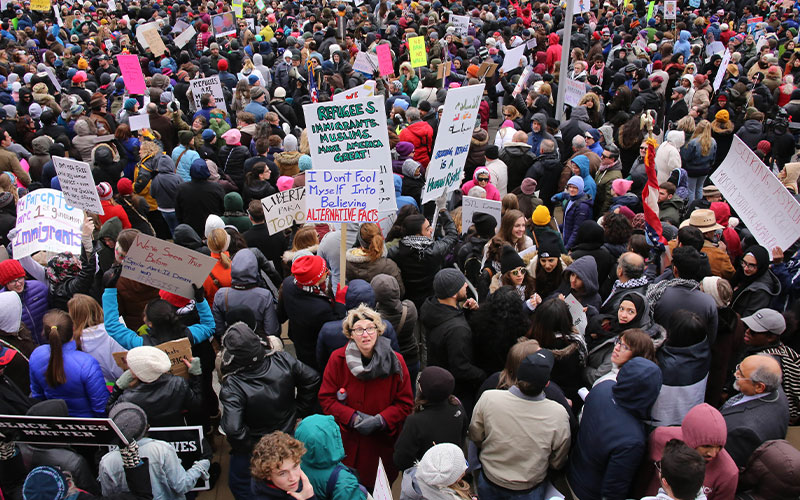 A few short words today about headlines and attitudes. It may be that not as many people read newspapers today as they did ten, twenty years ago. It's certainly true that headlines – are noticed more now than ever. They are impossible to miss. One headline shared by ten people on Twitter, Facebook, or the rest has the very real possibility of reaching millions within minutes.
There's an old cliche that says 'the headline screamed off the page.' That's not a cliche in 2017, it's never been more accurate.
Here's a few headlines from the last months:
Targeted immigration arrests in San Diego area have more than doubled under Trump
Immigrants facing new reality this Independence Day
Loose Definition of Terrorism Upends a Syrian Asylum Seeker's Life
Ossining student, detained by ICE hours before prom, days away from deportation
There are many, many more, of course. You look at them, they hit hard, you read the first sentence or two and … in many cases it can be terrifying. That has nothing to do with 'fake news' versus 'real news'. We're talking about big headlines in the most respected media outlets in the country, they introduce serious reporting on serious issues.
So, the headlines are scary. They are there to make you want to read the story. Funny thing about headlines, they're not written by the reporters, the people who have researched and written the articles. Editors write them. They write them for one reason – to get you to read…. although now it's more about getting you to click.
Headlines are hardly nuanced. They're not supposed to be. Every one of the headlines above, and of the dozens of news stories we've shared so far this year (so many) aren't designed to tell you … things. The first paragraph of the story, like all first lines of all literature, is designed to hook you, reel you in and get you to read more.
The problem with social media, and news stories, is that few people not totally invested in the story actually read the whole thing. They probably stop somewhere around the third or fourth paragraph.
This is an issue, because the 'why' of most articles about immigration is near the end. You know that if you've been following our Facebook page. Articles like the DACA woman who was picked up 'out of nowhere' before she started law school and is now facing deportation … Yes, compelling and infuriating and not quite accurate. That's what the headline and first few paragraphs indicated.
The rest of the story, though, was at the bottom. The woman had appeared on TV several times to decry Trump's policies. She appeared in front of an immigration court and participated in a news conference there.  She had never gotten around to filing the renewal of her DACA registration. It was months overdue. It put her on ICE's radar, she made it easy for them.
Sad but true and probably still infuriating but it hardly translates to a nationwide roundup of DACA kids. Which is what the headline made it seem like.
Our point – don't take headlines for news. If you see a headline that you think somehow applies to you then, by all means, read the entire thing. Or, call us.