Trains, Harvest Moons, and Citizenship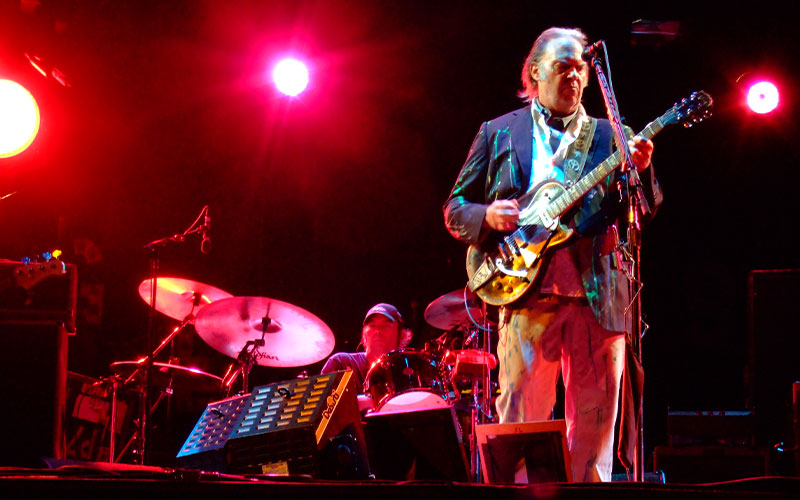 What do trains, harvest moons, and U.S. Citizenship have in common? None other than U.S. resident and aspiring citizen, Neil Young.
Let's talk about Neil Young for a moment. Canadian; came to the U.S. in 1960; moved to Los Angeles; founded several bands; went solo; singer-songwriter; 20 Gold or higher Albums; 26 Grammy nominations; actor; director; inventor; entrepreneur; environmentalist; philanthropist.
Young is in the Rock Hall of Fame as a member of Buffalo Springfield and as a solo act. He was nominated for an Oscar for Best Original Song for Tom Hanks won Best Actor for the film and cited Young's song as the inspiration behind his character.
magazine rated him the seventeenth greatest guitarist of all time; the 34th greatest artist; 5 of his albums are on their list of the top 500 albums of all time.
Young is called the "the Godfather of Grunge." He was an enormous influence of on Kurt Cobain, Eddie Vedder,  and . all cite Young as their major influence.
Young is one of the co-founders of . He has raised millions for them. He and his now ex-wife founded the The Bridge School –  a non-profit organization in Hillsborough, California for children with severe speech and physical impairments. From 1986 through 2016 he hosted (and performed at) a San Francisco music festival that raised funds for the school.
Young is a model train fanatic, he owns several patents. More importantly, he helped save Lionel Trains from dissolving and served as a time as the president of the company as they regrouped.
FarmAid, Grammys, Oscars, a ranch in California, President of an iconic American company, Young has done everything . . . except, perhaps, the one thing left he really wants: to be an American citizen.
Last week, he informed his millions of fans that his had been sidetracked. He took the test and sailed through it; had his interview and answered everything "honestly."
He admitted to having smoked marijuana. The officer turned him down on the grounds he 'lacked the good moral character' necessary for citizenship. It should be noted that ex-Attorney General Jeff Sessions had issued a policy memorandum that states that applicants for citizenship involved in marijuana lack moral character.
Please note as well that Neil Young lives in a state that legalized marijuana years ago.
One more thing: Neil Young is a fierce Trump critic. Very vocal. He also insisted that the Trump campaign stop playing Young's iconic at his rallies. Young's immigration attorney is sure this also entered the decision.
Here's what to take from this: it's legal to smoke marijuana in Washington. Don't. At least until the Federal government catches up . . . someday. Second, watch your social media. People will check it.
And call us.
Photo credit: Tobias Akerboom