Quiroga Law Office, PLLC Immigration Law Firm Celebrates 10-year Anniversary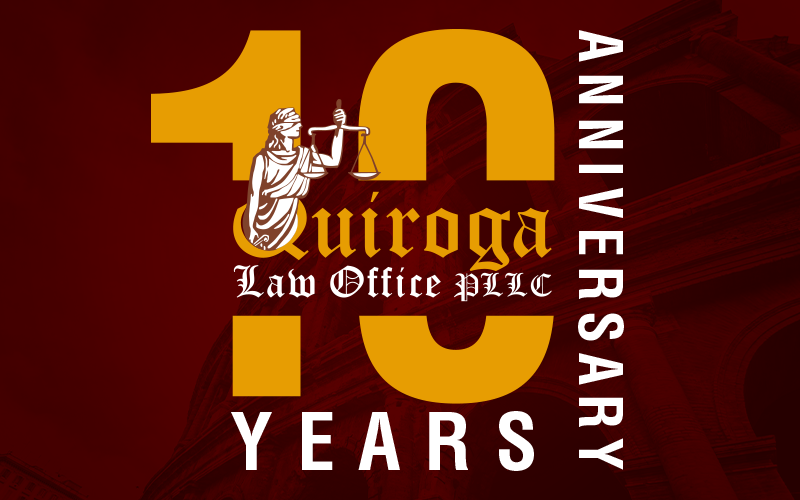 – Quiroga Law Office, PLLC has offices in Spokane, Kennewick (Tri-Cities) and Las Vegas, NV
– Honored as one of the "Fastest Growing Law Firms in the US" by Law Firm 500 for 2017 & 2018
– As an immigrant owned business, Quiroga Law Office prides itself on being a law firm of immigrants helping immigrants
FOR IMMEDIATE RELEASE
Quiroga Law Office, PLLC Immigration Law Firm Celebrates 10-year Anniversary
SPOKANE VALLEY, Wash., Jan. 9, 2019 — Quiroga Law Office, PLLC is celebrating the 10th anniversary of their immigration law firm this month, culminating with an Open House in their Spokane Valley offices on January 25 from 3-5 pm. This immigrant American dream success story started as a small operation out of an eight-hundred square foot basement in Spokane in 2009. Quiroga Law Office, PLLC started in the basement of Casey & Hector Quiroga's home resolving different civil law issues including helping immigrants.
Casey is a native of Spokane, while Hector immigrated from Colombia in 2000 and became a U.S. citizen in 2007. They met while attending classes at Spokane Community College and they continued their undergrad education at Gonzaga University and the Gonzaga University School of Law. Hector has also been an Adjunct Professor of Law at Gonzaga University for half a decade.
The basement couldn't hold the young firm very long and Hector and Casey, while raising a family, handled every difficult matter they came across and moved to ever larger offices while hiring staff – very often other immigrants. As the firm grew, the need for bilingual employees grew as well many employees speak English and Spanish. It did not take long for the office to take on a 'Melting Pot' look that symbolizes the best the United States has to offer.
Now, attorneys and legal staff from Quiroga Law Office, PLLC handle everything the complex and ever-changing immigration laws, rules, regulations, and executive orders have to throw at them from three locations, Spokane, Kennewick (Tri-Cities), and most recently Las Vegas, Nevada.