Happy Independence Day!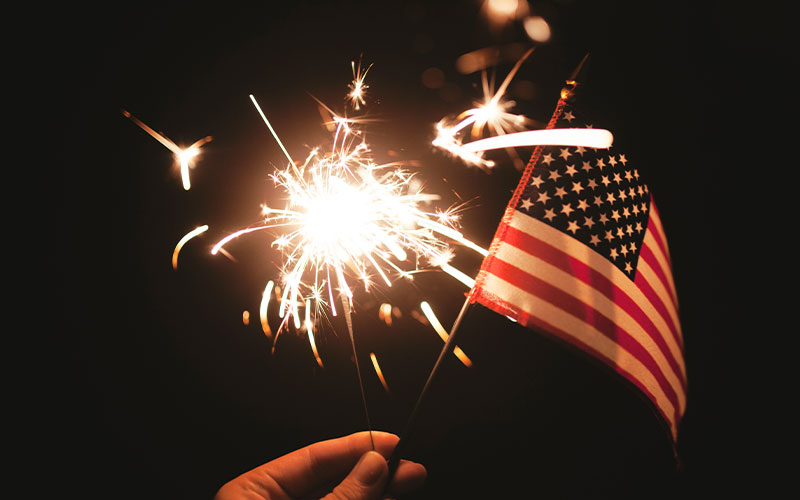 Happy Independence Day! While we prepare to celebrate, we'd like to offer this short history lesson. The Declaration of Independence was adopted and approved by the Continental Congress on July 2, 1776. (That's right, not the 4th).
Fifty-six men signed the Declaration. They did so despite the fact that no signatures were required, the act had passed and was in effect. They chose to stand behind their actions – despite the knowledge that they were marking themselves as traitors to the British Crown. They could expect to lose everything and most likely hang should the Revolution fail. The war was hardly going well for the Colonies at the time, so this was a significant threat.
Nine of the signers were born outside North America. That's right, eight of the 56 had immigrated to the America. (That's 14%, by the way, about the same percentage of immigrants in the U.S. today.
Those nine men:
Button Gwinnett
Gwinnett was born in  Gloucestershire, Great Britain in 1735. He had a string of bad luck in business and emigrated with his wife in 1762. They settled in Savannah, Georgia. He ran a store that failed and turned to farming. He was not very successful, but he became a fixture in Georgia politics. He was elected to represent Georgia in the Continental Congress. His is the most rare signature of all the signers – he was killed in a duel in 1777.
Francis Lewis
Lewis was born in Llandaff, Wales in 1715 and educated in Scotland. He emigrated to Whitestone, NY in 1735. He was a successful merchant, though his life was hardly easy. He was taken prisoner by the French in during the French and Indian War and sent to France for imprisonment. After he signed the Declaration, his home was ransacked by British forces, his wife was imprisoned for weeks. She never recovered and died in 1779.
Robert Morris
Morris was born in Liverpool, Lancashire, England, in 1734. He immigrated to Oxford, Maryland when he was 13. He lived with his father and eventually moved to Philadelphia for his studies. He became an apprentice at a shipping and banking firm in Philadelphia, eventually rising to run his own firms. He was immensely successful. Morris was not in favor of independence from Britain, he wanted some sort of reconciliation. He initially voted against the Declaration, later he abstained so the Pennsylvania delegation would have the votes to back it. Later in July, he added his name to it, saying, "I am not one of those politicians that run testy when my own plans are not adopted. I think it is the duty of a good citizen to follow when he cannot lead." Robert Morris was the treasurer of the revolution.  He managed the funds that paid for the war. When funds ran low, he paid out of his own pockets. Millions.
James Smith
James L. Smith's family came to America from Ulster, Ireland in 1729 when he was 10. They settled in Chester County, Pennsylvania. He attended Philadelphia Academy, now known as the University of Pennsylvania. He was admitted to the Bar and was elected captain of militia in York, PA.  He was  elected to the Continental Congress in 1776.
George Taylor
George Taylor was born in Ireland – no one is quite sure of exactly where – in 1716. He immigrated to America in 1736, landing in Philadelphia without a penny to his name. He had paid for his passage by agreeing to be indentured to an ironmaster. He started as a laborer, worked his way up to bookkeeper, eventually became a tavern owner and started his own furnace and forge company. After signing the Declaration in August, he provide the bulk of the Continental Army's cannonballs and bullets.
Matthew Thornton
Born in Limerick, Ireland in 1714, Matthew's family emigrated to North America when he was three years old, settling in Wiscasset, Maine. The town was attacked by Native Americans in 1722, the town was abandoned (until 1750!) and the Thornton's fled their burning home for Worcester, Massachusetts.  Thornton studied medicine and became a physician. He moved to Londonderry, New Hampshire, and opened his own medical practice. He was active in local politics, was swept up in the many colonial wars with the French and acted as a surgeon for various militia forces. He was the last man to sign the Declaration in November 1776.
James Wilson
James Wilson was born to a farming family in 1742 near St. Andrews, Scotland. A very bright child, he studied at the Universities of St. Andrews, Glasgow and Edinburgh, and was a rapt student of the Scottish Enlightenment thinkers Francis Hutcheson, David Hume and Adam Smith. He came to Philadelphia in 1766, and found work tutoring and teaching at what is now the University of Pennsylvania. Wilson  read for the law at the office of John Dickinson, one of the eventual authors of the Declaration. He attained the bar and established his own practice in Reading, Pennsylvania. He was immensely successful. He was considered the finest political theorist of the Congressional Convention and while not a drafter of the Declaration, he was considered one of it's guiding lights. He was one of the first four men appointed to the Supreme Court of the United States by George Washington.
John Witherspoon
The only active minister and the only college president to sign the Declaration, John Witherspoon was born in 1723 in East Lothian, Scotland. He was the oldest child of a minister. Witherspoon obtained a Master of Arts from the University of Edinburgh in 1739. A staunch Protestant, nationalist, and supporter of republicanism, Witherspoon was caught up in the Scottish revolts and was briefly imprisoned by Scottish rebels in 1746. He was a well known Presbyterian minister and theologian when he was approached by several prominent New Jersey residents (and fellow signers of the Declaration)  to immigrate to America and become president of Princeton – at the time an understaffed, struggling, second rate college. He accepted in 1768. He turned Princeton around in a matter of months. During his first years there, with him acting as a professor as well as President, he taught James Madison, Aaron Burr, William Bradford, three Supreme Court justices, twelve members of the Continental Congress, twenty-eight U.S. Senators, and forty-nine U. S. Congressmen.