Christmas for Immigrants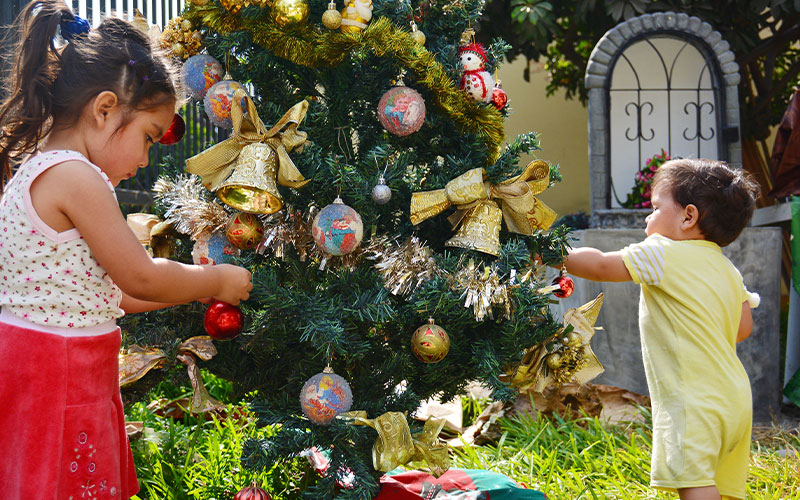 Birthdays, anniversaries, festivities and many other celebrations are occasions that you surely miss from your country. As we talked about in the blog "The challenges of an immigrant" (anchor with the link), the memories and the desire to spend special dates with our family are a situation that unfortunately we cannot avoid or evade while being adjusted.
A few weeks ago, we celebrated Thanksgiving (Thanks Giving), and the next day started Black Friday, which is that stores and shopping centers offer considerable promotions on their products so that people begin to buy gifts for Christmas. At this time we can officially declare ourselves at Christmas! Another way to start Christmas is to wait for the lights of the National Christmas Tree or National Christmas Tree, which are in front of the White House, where every year many civilians attend and witness the musical acts of artists and celebrities. If you want to participate in person, you must be aware of the draw that is made a month before to attend.
Due to multiculturalism, the United States and its citizens have adopted certain customs in this holiday so expected by all. Likewise, they have their own traditions, which we as immigrants really enjoy adopting once in this wonderful country. What we can usually see is that they decorate their houses with lights, dolls and garlands. For Americans, Christmas is celebrated on December 25 of each year, for many others, on the 24th, and depending on their religions and beliefs, in other months, as is the case of Russia, which celebrates it in January, or in cases like Afghanistan and Morocco, who don't celebrate it.
After adapting the whole environment to this beautiful date, shopping comes, snow falls in some places, the elf, the nutcracker, the Christmas boot in the fireplace or in the children's bed, and the happiness of finishing the year that has passed and welcoming a new one.
For those who do not know, the elf is an individual who comes from the North Pole and checks in the homes of all children to confirm if they have behaved well and gives the report to Santa Claus. The elf appears a day after they decorate the houses. Every night, this little pixie moves from his place and dawns in another, so the children get up very excited to look for him. Just like this tradition, there is a very similar one that is The Nutcracker or Nutcracker, which is that from a very young age, parents take their children to the Nutcracker Ballet, which is presented in all the theaters of the country during Christmas. It is a majestic work that is initially developed in the Snow Realm and ends in the Sweet Kingdom. If you go, remember to go with money because very surely you will have to buy your children a small nutcracker to put it on the tree.
Another family tradition is to go and decorate the natural Christmas tree. The families get together and to the sound of Christmas music decorate this pine that they bought in a farm. At the end of everything, they put the tree next to the fireplace because that's where Santa goes down to leave the presents. Usually there are Christmas boots with the name of each family member, where Santa Claus leaves small gifts, candies or notes.
There are neighborhoods where homeowners decorate their homes with lots of lights, polar bears, sleds, reindeer and other Christmas characters made of lights or inflatables, which makes of this month a great chance to enjoy taking a spin around the neighborhood holidays lights with the family.
It is popular to receive a postcard telling you about an event that happened in the family from relatives and friends. Therefore, one should not be surprised to receive Christmas cards with family photos or children wishing us happy holidays. These letters are hung on a decorative ribbon and at the end of Christmas they are kept all together.
Gastronomy, as in all countries, is a tradition and a very important factor in homes and even more on special dates such as Christmas. Typical dishes in the United States are turkey, mashed potatoes with sauce, savory cakes; for Christmas Eve it is usual to take eggnog, which is made of milk, sugar and beaten eggs (it is optional to add brandy or rum). Another very cool custom is to bake Christmas cookies. They usually make gingerbread dough and molds of Christmas boots, shooting stars, reindeer, sugar canes, Santa Claus hats, and gingerbread dolls, and decorate them with colored frosting to make them look prettier. Within this same tradition, we can include the Gingerbread House. In the stores they sell the kits so that the little ones have fun at home during the winter. It is worth clarifying that this is generally used to decorate and not to eat.
We are all very excited about the arrival of Santa Claus or Saint Nicholas or Holy Child, whatever you want to call it. The purchases, ornaments and joy that are seen everywhere is indescribable. We know that many of you will not have the possibility of being surrounded by your loved ones this time, but at Quiroga Law Office we want this to come true very soon, and that is why we work hard to be united in harmony.
Merry Christmas!