An Immigrant in the Hall of Fame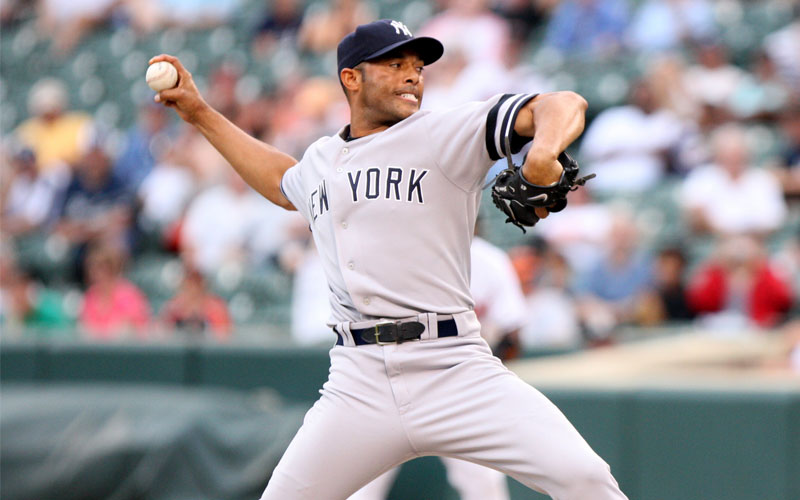 A 1990 immigrant to the United States just became the first player ever unanimously elected to the Baseball Hall of Fame.
That may seem like just the inevitable ending for one of the greatest pitchers of all time, but Mariano Rivera's story certainly didn't start out that way.
It started almost exactly like most immigrant stories.
Mariano Rivera was born in Panama and grew up primarily playing soccer in his poor, working class neighborhood. Baseball was a fun 'mess around on the beach with friends' activity. They had no equipment, played with cardboard milk cartons made into gloves, tree branches for bats, the balls were wadded up fishing nets wrapped in tape.
Rivera dropped out of school in 9th grade and went to work as a fisherman on his father's sardine boat. He worked six days a week and played soccer in his spare time. He quit after a boat he was on capsized and an uncle died. He was forced to give up soccer after a series of ankle and knee injuries curtailed any possible career.
He played baseball on an amateur team, was a decent shortstop, but the major league scouts who occasionally tromped through Panama never gave him a glance.
Then a weird thing happened – his team's pitcher was having a brutal outing in a playoff game and Mariano volunteered to take over in a game that was out of control. To give his team's relief pitchers a break. He had never pitched before, in baseball this is known as 'taking one for the team.'
He was electrifying. Because it was a playoff game, there were scouts in the stands – all there to watch other players. But they noticed Mariano instead.
He was on their radar.
It took a while – Mariano weighed 155 pounds soaking wet and threw a very pedestrian 85-87 mile per hour fastball – but a scout for the New York Yankees liked something about him and offered him a contract to come and pitch in the minor leagues. He signed for $2,000.
Mariano Rivera came to the United States in 1990 unable to speak a word of English, subsisted on about $15/day meal money and a tiny minor league salary, rode buses, stayed in fleabag motels, and . . . hung on.
For five years he pitched in every level of the minor leagues, usually in small towns, and went back to Panama in the off season. He started getting noticed about three years in, then had a serious arm injury requiring surgery. He worked hard through rehab and came back – and was terrible. So bad, he risked getting cut by the Yankee organization and shipped home.
He was twenty-five, considered too old to be a prospect and was a year removed serious arm surgery. There was very little incentive for the Yankees to keep him around. But they did. And, one day in a game in Columbus, Ohio mopping up in a Triple AAA game a  miraculous – so Mariano would claim from that day on – thing occurred: the skinny kid from Panama was throwing a 95-96 mph fastball.
He was up with the Yankees in the Bronx shortly after and the rest, as they say, is history,
At least baseball-wise. Mariano married his elementary school sweetheart and settled between New York and Panama. He mastered English and helped countless other Latin baseball players not only learn English but adapt to living in the United States. He has helped countless sports journalists learn Spanish so they can communicate more effectively with Latin players.
Mariano became a U.S. citizen in 2015. He owns restaurants and car dealerships in New York. He's opened a church near his home in Westchester County, NY.  The Mariano Rivera Foundation provides underprivileged children in Panama, Florida, and New York with an education. He is intimately involved with his community in New York and runs annual fundraisers for the local hospital and has established a scholarship fund for the local college.
Mariano Rivera came to this country as shaky, unsure, and overwhelmed as a great many immigrants. He fought through adversity. At first he survived. Then he thrived. Then he gave back. And he continues to give back as a new citizen.