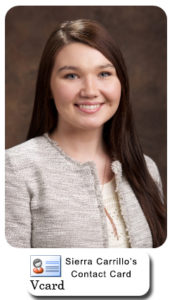 Sierra Carrillo is originally from Onion Creek, Washington, a small town near the Canadian border. She was raised in a liberal community and was home schooled by her parents. Sierra is a real achiever and accomplished her graduation requirements at the early age of sixteen.
Education has always been important for Sierra and she did not hesitate to enroll in Spokane Community College once she took the GED. In two short years Sierra graduated with an Associate of Arts with Leadership and Academic Honors.
While attending Spokane Community College Sierra got very interested in sociology and psychology. She is now fascinated with criminal psychology and the effects of traumatic events at an early age that triggers violence later in adulthood.
Sierra plans to pursue this area of study at a local private college in Spokane and major in Criminal Psychology.
While taking classes at S.C.C. she met Roberto, a young man who offered to help with her algebra and calculus homework. After a few study-sessions they quickly realized that there was a connection and started dating. Before they knew it, they were finishing each other's sentences and were destined to be together.
They got married after Sierra graduated and have been newlyweds since April of 2017. On their honeymoon, Sierra enrolled in a certificate program to pursue her other interest in physiology, fitness and nutrition education.
Sierra loves to hike and bike the local trails for Spokane County. She considers herself a destination hiker, always has a goal to achieve and mountain to conquer with her parent's dog Ronen. She has hiked and biked all over the State of Washington and feels it keeps her mentally and physically fit.
Sierra is currently enrolled in an online nutrition education program via the American Fitness Professionals and Associates. She loves to read about holistic anatomy and books that empower her to be a better, stronger person.
She plans to keep taking classes at the university level once she is done with this program. Her hopes are to become a well-rounded and highly educated person who can have the confidence to one day home school her future children.
Sierra is always looking forward and planning the next event in her family life and would one day like to have several children with her husband Roberto. She is a real go getter and has always found promise in the words and advice of her parents. She follows her passion and does not take her accomplishments with a grain of salt. It has been instilled in Sierra to never doubt herself and follow her passions with fortitude. She is the type of person who doesn't look back only to be moving forward, and that is where she finds her balance.
Sierra came on board with Quiroga Law Firm in early May of 2017 and has proven herself to be the person she aspires to be. Always prompt, professional and eager to learn, Sierra takes in information like a sponge and has quickly become the go to person for all new employees coming on board. We are extremely grateful for her abilities and contributions to the team and we are excited to see her grow and achieve her goals as we know she will.