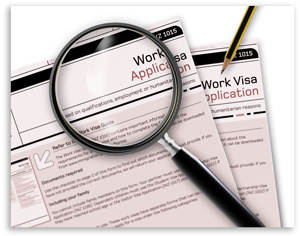 Many people living abroad would like to work in the United States and repeatedly ask the question, how can I acquire a visa to work temporarily in the USA? But it is necessary, not only to know "how do I get the visa", but it is also necessary to know how the system works.
It is clear that US citizens can work without issues in the United States, as well as legal permanent residents who have a work permit through a Green card .
The visa to be able to work temporarily in the United States is possible to acquire it by labor arguments but normally it is necessary to have a high knowledge and academic studies as it is also necessary that the employer is American and that it sponsors him.
How to acquire a visa to work temporarily in the USA
There are several ways to work temporarily and legally in the United States, every year thousands of visas are granted for temporary jobs.
But we must know a difference and it is that in the cases of an EI or E-2 visa (investors in merit of treaties) that invest doing their own business, in businesses of others or in recognized franchises, they must also refer or relate to a sponsor in United States. Other examples where they must have sponsorship are the NAFATA and TN visas that are for Canadian and Mexican professionals, H-1B visas for professional foreigners, H-2A and H2B visas for foreigners who do not have university studies, also applies for visas J-1 exchange.
Therefore, if a person wishes to work in the United States, not only must he determine which visa fits his abilities, but he must also have the support of a company with a presence in the United States, which not only hires if not the person demonstrates financial support in the process.
How can the American company sponsor a foreigner who does not have a work permit or a residence card.
Initially, an administrative process that is complex must be followed, for this reason many of the companies seek advice from lawyers with experience in this type of cases, in some cases such as for example on the H-1B visa it is necessary to request a labor certificate from the Department Work before contacting immigration authorities.
The H-1B visa , is the most requested, for this reason in many cases there are no visas available, many times the relevant authorities are forced to circumvent and determine which visas can continue with the process. (This event occurs only with visas that are limited per year).
The employer must complete the I-129 format and pay the corresponding fee, with the exception of the workers who apply to work on cruise ships, which the process handles in a different way.
If the application is approved, the management process for the delivery of said visa begins, it should be noted that the worker can be inside the United States or outside, in case of being inside the country he must reside legally.
Generally the process can take some time, that depends on many factors, but if you want to speed up the process a little, you must complete the I-907 format and pay an extra fee.
How can a person find a temporary job in the USA?
Naturally, you must have a cover letter, a resume, the contact of the company or employment agency to which you wish to apply, generally the authorized agencies are responsible for finding workers for American companies that require the service of a worker abroad.
Recommendations
If you are approved for a visa to work temporarily in the USA, it is important to be clear about how the system works and what are its extensions.
In some cases, it is possible that the same person can be hired with different visas, for example, if a university professor is Mexican, he can have a TN, an O1, an H-1B or a J-1.
Understand and be clear about the differences that exist between each of the visas. Both rights and obligations.
You must be careful with visas for workers without a university degree such as those for agriculture H -2A or H-2B, since there have been many complications due to the labor abuses that some people generate, before accepting a job verify the conditions and guarantees that You can give them in this type of jobs.
If you change jobs or are transferred from one company to another, know what the problems or difficulties to which you may be subjected to.