The New Citizens of July 4th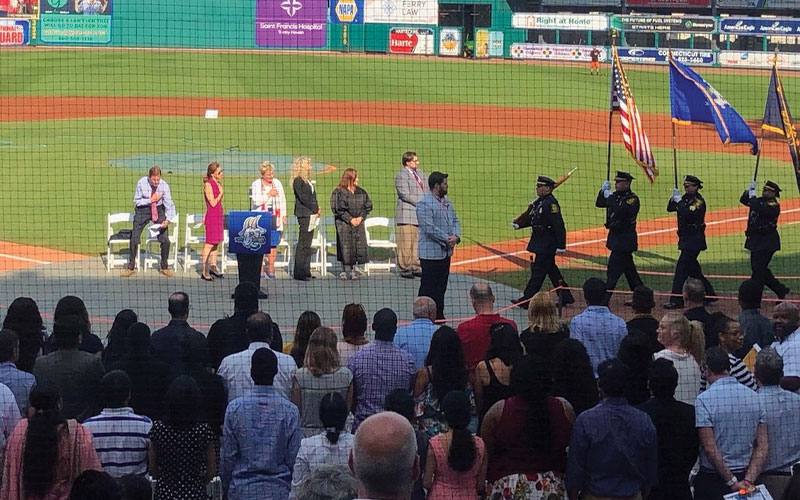 Something a little different today: 'feel good' news about brand new citizens. On July 4th – and the days right around it – over 7,500 new citizens were sworn in. The oaths were administered all around the country in 110 locations, many of them at historically significant sites.
We thought we'd share some of this good news, put aside the news of the day and look at the end result our clients are striving so hard to achieve:
South Carolina

"The 27 people who gathered at Charlotte's Museum of History on Thursday took an oath of allegiance to another flag and became some of America's newest citizens.

"It's a huge deal for me," said Vanessa Amabo, 26, a native of Cameroon who works as a research assistant at the University of North Carolina School of Medicine."

North Carolina

"USCIS Supervisor Samuel Thomas is administering the Oath of Allegiance to America's newest citizens during a special naturalization ceremony at the North Carolina State Capitol steps on Thursday at 12 p.m.

The 25 citizenship candidates originate from the following 19 countries: Bolivia, Burma, Canada, China, People's Republic of, Chile, Dominican Republic, Ecuador, Egypt, France, Guatemala, India, Iraq, Jamaica, Kenya, Liberia, Mexico, Nigeria, Vietnam and Yemen."

Washington, DC

"It was right around 9:30 a.m. Thursday that 44 immigrants from around the D.C. region heard acting U.S. Citizenship and Immigration Services Director Ken Cuccinelli say the words many of them have waited years, if not decades, to hear: "Congratulations, you are America's newest citizens."

At that moment, there was thunderous applause, lots of smiles, and even some tears on the faces of those who gathered inside the rotunda of the National Archives for this naturalization ceremony."

New Mexico
"13 people became U.S. citizens at the Naturalization ceremony hosted at the Bandelier National Monument on Fourth of July."

Massachusetts

"150 Become Citizens At Old Sturbridge Village On July 4"

Virginia

"There's no better place to celebrate Independence Day than Monticello. Join us as we mark the 243rd anniversary of the adoption of the Declaration of Independence and welcome more than 70 new American citizens at our 57th annual Independence Day Celebration and Naturalization Ceremony."

Ohio

ARCHBOLD, Ohio (WNWO) — The July 4th holiday was a little extra special for a group of locals that officially became U.S. citizens.

A naturalization ceremony was held at the historic Sauder Village to commemorate immigrants that span generations.U.S. Citizenship and Immigration Services welcomed 53 new Americans from 30 countries.

Maryland

"Fourth of July events at the William Paca House and Garden commemorate the Maryland patriot's approval of the Declaration of Independence in 1776. The day begins with an inspirational Naturalization Ceremony where dozens of people from communities around the globe become our nation's newest citizens in a ceremony conducted by officials from U.S. Citizenship and Immigration Services."

Utah
"While July 4 is a time to celebrate America, Gomez and 125 other Utahns officially became Americans on Wednesday — just in time for Independence Day.
In a packed Rose Wagner Performing Arts Center in Salt Lake City, immigrants from 41 countries raised their hands as a group to renounce old allegiances and take the oath to become U.S. citizens.
They came from Afghanistan, Argentina, Belize, Bhutan, Bosnia and Herzegovina, Brazil, Burma, Cabo Verde, Canada, Chile, China, Colombia, Cote d'Ivoire, Dominican Republic, El Salvador, Eritrea, Ethiopia, Germany, Ghana, Guatemala, Hong Kong, India, Iran, Iraq, Kenya, Mexico, Mongolia, Paraguay, Peru, Philippines, Poland, Romania, St. Vincent and the Grenadines, South Korea, Spain, Sri Lanka, Taiwan, Thailand, Tonga, Venezuela and Vietnam."

Connecticut

"What's more American than a baseball game? Becoming an American citizen at a baseball game.

The Hartford Yard Goats hosted an on-field naturalization ceremony before their game on Wednesday. 60 Connecticut residents took the oath the become American citizens ahead of Independence Day.

"For me, it is so great," said Eriberto Torres, a Dominican Republic native who now lives in Waterbury. He said this ceremony was even more exciting because he's a baseball fan.

This is the second year the Yard Goats have celebrated the Fourth of July with a naturalization ceremony. They said it was important for them to bring it back for another year.

"It's such a neat thing to get to experience and to play a small part in," said Mike Abramson, general manager of the Yard Goats. "It wasn't a question of whether or not to do it, it was accepting the gift of doing it a second time."

For 60 people hailing from 31 different countries, their first act as American Citizens was taking part in America's pastime."
That's a lot of good news last week, smack in the middle of what seems like a constant stream of not so great news about immigrants and immigration.
It's still possible to part of these stories, call us.