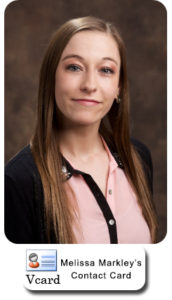 Born and raised in beautiful Idaho, Melissa Markley has always been known as "the big sister." She grew up with four younger siblings letting her learn how to be the firm, mature one.
As she grew up Melissa helped at a daycare and worked as a lifeguard, showing the world how compassionate she is and how much she cares for others.
It has always been in Melissa's character to be up for a new challenge of whatever is thrown at her; from being motivated to be independent at an early age, to exploring the wilderness, to being more proficient than anyone else at her job.
She contributes this wonderful trait to her mother who raised her to be the greatest she could be.
"I consider my mother to be my life's greatest blessing. Her character always made her strive to be great." Melissa told us, reminiscing on her mother and childhood. Her mother's influence shows in Melissa, her compassion and supportive nature thriving here, at Quiroga Law Office.
Melissa graduated high school in Idaho, showing that she was an overachiever from the beginning and graduating with college credits in Psychology, English, and Sociology. With her natural sympathetic nature and her education Melissa has shined as the face of Quiroga Law Office.
There is never a feeling that you are not getting helped to the best of Quiroga Law Office's ability. Melissa shines as the front person of office, and therefore shines outside as well.
Melissa enjoys traveling and is a real daredevil. Her greatest accomplishment involves the daring feat of braving bear country. While traveling in Canada she was invited to go to a hot spring. Little did she know that it was a 1 ½ mile hike through the woods to a beautiful hot spring. After hearing about this hike she did not hesitate to conquer this obstacle to get what she wanted, she did the hike with enthusiasm and enjoyed the hot spring to its fullest.
To this day, with every chance she has she is outside, enjoying the sun, wilderness and the worderful parks that Spokane has to offer. This shows her true passion for nature, the outdoors and gardening. Melissa shows this at Quiroga Law Office as well, bringing vibrancy to the office with her green thumb and beautiful home grown orchids adorning her space.
When you call Quiroga Law Office Melissa's agreeable nature and pleasant voice will adorn your ears and give you any of the information that you may seek. Melissa is the first point of contact when you walk through the doors of Quiroga Law Office, she is the face of the company and has a real knack for making our clients feel welcome and at home.
Her beautiful orchids will greet you alongside her smiling face, ready to make you feel at home with the Quiroga family. Don't be surprised if she is offering you a cup of coffee or a cold glass of water while you wait in our comfortable and inviting waiting area, "hang tight we will be right with you."
Contact Us
SCHEDULE A CONSULTATION
(509) 255-3522